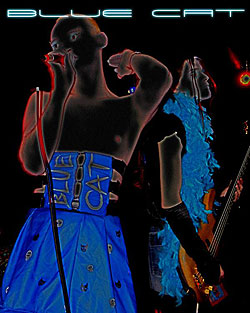 Blue Cat aims at getting people to bounce on the dance-floor, as well as creating atmospheres through lyrics, performances or video projections. We consider the stage show to be very important, and like to work with various artists.
Our references cover and interconnect witchcraft, hedonism, or cyber themes. We've been playing quite regularly in Paris since 2004, in such places as l'OpA, le Klub, la Flèche d'Or and les Caves Saint Sabin. Really nice places, all of them! ;)
Our small structure enables us to play in various contexts, from small to big halls. We just finished our first video-clip "Mother Haven", and are about to put it on line.
The first viewing will take place on april 27th (see Blog). We're currently working on a 5 track record with Andrew G, which should be released by october.
| | |
| --- | --- |
| | |
| Flow : vocals & progs | Claude : bass guitar & progs |
Watch the "Swing" video if you want to have an idea of our gigs!
For all information : Tel: 00 33 (0)6 25 64 65 64
Email : zebluecat@yahoo.com